15 Jun

Sweden Abandons Nuclear tax and will build new nuclear power stations

The Swedish Energy Minister Ibrahim Baylan has provided great news for the environment by announcing that Sweden will:
Abolish the nuclear generators' capacity tax which will be phased out over two years from 2017 and,
Build 10 new power stations to replace the existing aging plants and ensure Sweden
"The aim is … to make sure we can always guarantee electricity at competitive prices, in a stable and sustainable way, both in the short and long term," Energy Minister Ibrahim Baylan told reporters.
Nuclear energy continues to have significant public support in Sweden where they produced around 34 percent of Sweden's electricity in 2015. Nuclear energy along with hydropower contribute to enable Sweden to produce electricity with amongst the World's lowest emissions factors of approximately 20 gr. CO2/kWh.
In May 2013 a Novus poll showed 38% support for continuing to use nuclear power and replace existing reactors, 30% for continuing to use existing reactors and 21% wanting to phase out. The series of Novus polls since 2010 show men much more positive than women, typically over 75% compared with about 60% for women.
Previously the nuclear power providers in Sweden have said they would be forced to shut the country's loss-making nuclear reactors unless a tax on nuclear capacity is abolished, risking a spike in electricity prices and energy shortages for industry.
The tax, which brought in about 4 billion Swedish crowns ($488 million) in 2015, will be phased out over two years starting from 2017, but households will see their energy bills rise as Baylan said the government would increase taxes on energy users to make up for the nuclear tax. Heavy industry, however, would be excluded from the tax rise.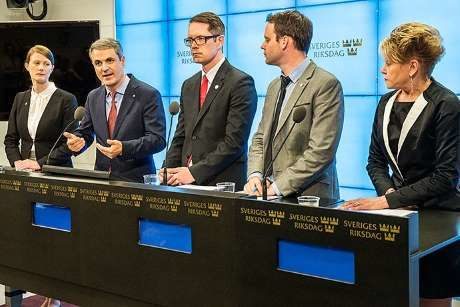 In a broad deal agreed with the main opposition parties, the government also said it would allow up to 10 new reactors to be built as the country closes its old plants, built in the 1970s and 80s.
The tax on capacity – which was increased last year – has hurt profitability at plants already under pressure from low market prices and the need for expensive upgrades to meet tougher safety standards since Japan's Fukushima nuclear disaster.
The deal to end the tax is a blow for the Green Party, which wants nuclear power phased out as soon as possible and instigated the increase in the tax last year.
($1 = 8.1964 Swedish crowns) (Reporting by Reuters and World Nuclear Association)